This wiki can be updated by anyone. We will keep a list here of all know rezzable foods and drinks from competitions.
If you work out recipes for these, the item is able to be rezzed as a physical prim and in turn potions can be applied to them as well.
You can purchase and sell all rezzable food and drinks in the main store: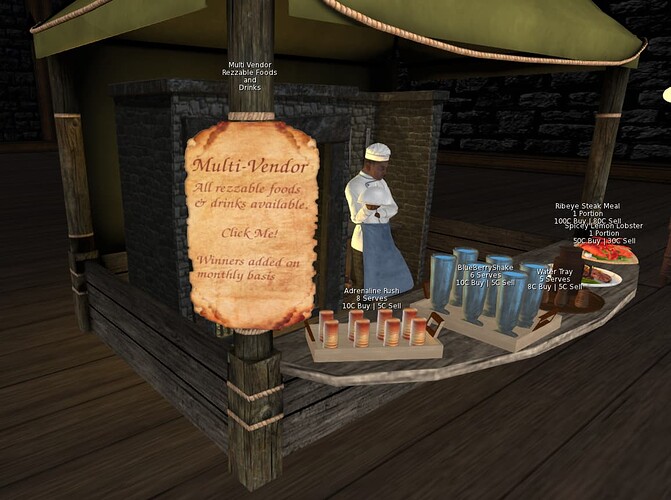 Old old entries will be in the Multi-Item Vendow (click the sign in-store) and all current winning entries will be rezzed out on the bench as seen in the screenshot.
If the person who created the recipe, doesn't sell it to the vendor, the foods won't be available to other players in the community. If you don't see the item, contact the creator listed to see if they can sell some to the vendor or trade you some for you to sell or reverse engineer to figure out a recipe for your feasting tables.
Edit below
FOODS
| Recipe Name | Creator |
| --- | --- |
| Chicken Noodle Soup | Vudon |
| French Toast | Doriokern |
| Hardy Beef Stew | Vudon |
| Phill Cheesesteak | Vudon |
| Ribeye Steak Meal | jamesanthoney |
| Spicy Lemon Lobster | demzieuk |
DRINKS
| Recipe Name | Creator |
| --- | --- |
| Adrenaline Rush | malienna |
| BlueBerryShake | enzorobotic |