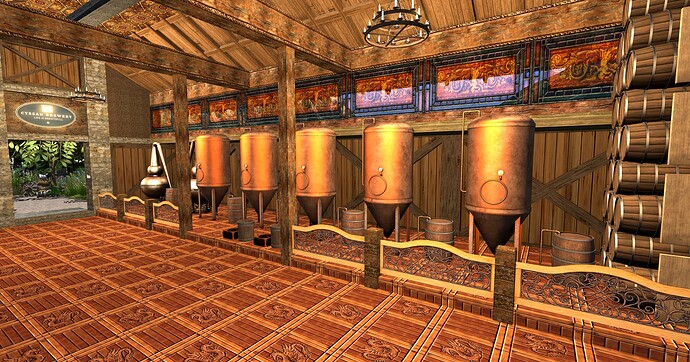 Cyssan Brewery
Hello SL Colonies Community,
I'm Temujin Calidius, the founder of SL Colonies, and I'm thrilled to share some exciting news about the upcoming changes to our Brewery System. This article is based on a recent conversation between our developer, Drakkhis, and myself, discussing the planned updates in detail.
The Brewery System is crucial to our virtual world, SL Colonies. It allows players to engage in immersive brewing processes, creating a variety of drinks that can be used in the game. We're planning a revamp to make it more realistic and engaging. The new system will involve four stages: mashing, fermenting, distilling, and aging. Each step will have its own station, and players can interact with each one to create their unique brews.
Here's the exciting part: Players will not need to purchase a new system. All current stations will just receive an update. The mash tun, fermentor, distiller, and aging barrels will all be updated with these new features. Each station will allow you to input specific ingredients to get an outcome. We will need to update our database to include more stats on our raw materials. For example, we need to add starch into the database so that each food has different values of starch attached to it. We will also add new brewing enzymes into the CXP store for brewers to spend CXP on.
The first station, the mash tun, will convert starch into sugars. Players can add anything with starch content and brewing enzymes to create a mash. The second station, the fermenter, will ferment the sugar into alcohol. Here, players can add anything with sugar content and yeast to create a liquid with an alcohol level between 1% and 15%.
The distillery, the third station, will be used to enhance the alcohol content of the fermented liquid. Distilling can increase the alcohol content up to 90%, depending on the duration of the process.
Players can interrupt their process through any stage to taste a cup or test their item for stats before deciding if they wish to proceed longer in the process. Aging barrels will be used not to enhance alcohol stat; instead, they will be used to improve other base stats, such as thirst, energy and so on. We will add more barrel types to the carpentry, so you can make not just oak barrels but the other wood types available from our variety of trees (and yes, we will release the new trees sitting in our building platform!). The different types of wood will affect other stats over time.
The aging barrels will also allow a player to select the barrel design they would like their product to come out in. We will have a dozen designs for you to pick, and you can add your graphics by UUID to your barrels through that station.
There will be one new station! A bottling station. This means smelters will finally be able to smelt things into bottles that brewers will need. The bottling station will allow you to pick a variety of cork designs, tint your bottle, set its transparency, and apply your labels by UUID to those.
Are you going to have the next best wine or whiskey? Here's an idea! When you create the best alcohol out of proprietary compounded ingredients to make it impossible to copy, why not develop a drink in your modified cooking station that now appears to be a tavern's bar? You now create a few cocktails with simple ingredients that anyone can obtain, add your proprietary alcohol on top and name your cocktail something special, giving out the cocktail recipe to the community to serve in their taverns/clubs/bars, and encourage the community to visit your land to purchase your special brew!
We believe these changes will significantly enhance the brewing experience in SL Colonies, making it more immersive and enjoyable. We're excited to see how our community will embrace these changes and create unique brews.
With the complementary Social Stone being released shortly, the demand for alcohol will also increase significantly, creating a fun, interactive environment for you all to participate in.
We encourage you to share your thoughts and opinions on these upcoming changes. Your feedback is invaluable to us, and we look forward to hearing from you.
Stay tuned for more updates!