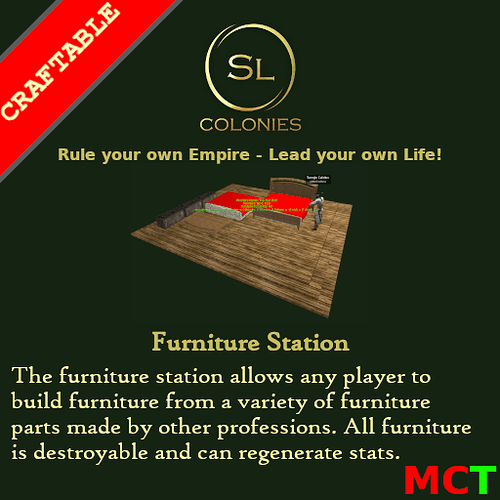 The furniture station has finally been released, and we are proud of our accomplishments. Nothing like this has even been seen in Second Life. A system where you can combine various parts into a linked final product that can be traded virtually and rezzed in-world to regenerate your stats.
The Furniture Station brings a variety of professions together within SLColonies, to make finished furniture that you can rez in-world and use in your builds.
These include beds that regenerate energy, fatigue, health and potentially other stats, chairs, cushions, storage chests, tables, doors and a variety of other items as we add them to the system.
Any profession can use the furniture station, but the items needed to put together the furniture require a range of occupations, from Farmer, Ranger, Seamstress, Carpenter and more.
All furniture built with this system can be damaged and destroyed!
Check out this video on what it can do and how to use it, and let us know what you think in the comments below.