Hello All,
This post is going to be a little bit long-winded, but it is a very important one and requires your input as a member of the community. There is a vote within it and it requires as many of you as possible to click on that vote button and as many of you to add your input by replying, as what I am about to discuss could potentially change our system dramatically for the better or the worse. And I am all about listening to our community.
So let's start by going back and reading the initial introduction to SLColonies I had written back in early 2019 when I first ventured into making SLColonies with my friend and developer and now fellow creator & partner, Drakkhis before our community was growing:
Now, let's break down this post into sections where I feel we may need to begin re-looking into what was said and possibly making some changes, based on your input.
One of our methods of really fixing the problem of supply & demand and focusing on player driven economy is putting measures in place to prevent the selling of items crafted and gathered within the system to be sold for L$ on the SL marketplace or through the use of vendors. Instead, we added features such as marketplace HUBS and vendors which use in-game currency including buy and sell orders – much like an exchange. This encourages trade to be done within lands at marketplace hubs and vendors using the internal game currency. Players in the system will visit other regions and known artisans in order to obtain the resources they need to craft and progress.
In this paragraph of the introduction, I go into detail about why products crafted by SLColonies players should not be able to be sold for L$. And we built the game very much with that in mind. You do not get prim ingredients that are transferrable to other players which you rez onto the ground to load into your crafting station or farm fields and the like. And there is nothing currently in the system, besides reselling your crafting stations, that you can earn L$ from unless you were to come to the main store and sell your coins for L$ at the ATM we have made available - the only link to players ability to make real money.
But today, we are in different times, and if you have any knowledge about new NFT based games and crypto-currency, you know players in those games can play to earn and some even allow them to make a living. If you don't know much about NFT's, check out this video for a bit of an explanation:
Obviously, I doubt a game within Second Life can provide that type of income, but Drakkhis and I did have a thought about how we could allow players to earn an income, without ruining the goal of roleplay. Let me get into some of the detail.
We are thinking of a type of crate which players can make that functions kind of the same way as the Storage Crate already does, but with limited functionality as well as some added functionality.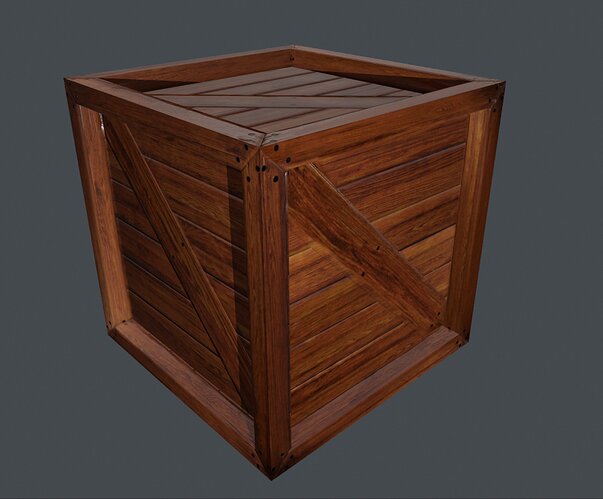 Source: Wood Crate - 3D Model by KellyJohnson3DArt
Something like this can be crafted within the Carpentry station. So it costs nothing for you to own. When rezzed into its prim form, you will see branded SLColonies on one face, and when clicked, you as its owner can add your brand image on a face and a product image on another face.
When clicked, you can also load 1 stack of items from your inventory into it. When another player clicks on the crate, they will have the option to view its inventory by going to a website link, to confirm what is inside.
You as the owner could sell this item for L$ in multiple ways:
You could just set a buy price on the prim, so a player just right clicks and selects buy to make the object theirs.
You could load multiple of the same type of crate into a vendor which accepts L$. So a player pays your vendor and a crate is sent to them until the vendor is empty.
You could take a screenshot of the crate and list it on the SL Marketplace for L$.
You can make crates selling 1000 x Water or 100 x Wheat or whatever you like. The limit in the database is actually a stack of over 2billion items, so we doubt we would ever reach that limitation.
The new owner of the crate can click it and withdraw all items from its inventory at once and it will transfer to their personal inventory on the database to be used in crafting or whatever its use is.
So what are your thoughts?
Are you for it, or against it?
Yes, I like it
No, I don't like it
Can you take the time below by replying as to why you voted yes or no? Why do you think it will or won't work and what are some solutions?
Thanks All!
Tem