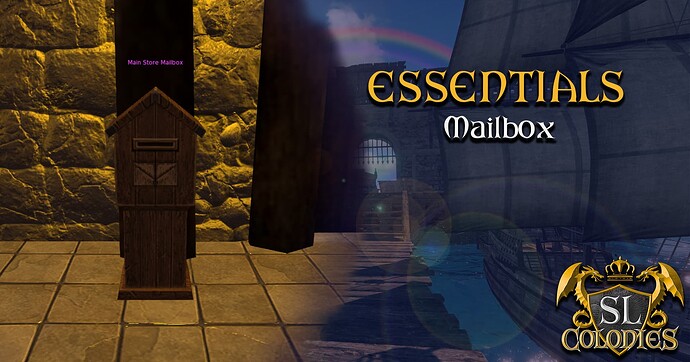 We're excited to announce that the highly anticipated Mailbox is now available to the entire community! This innovative addition to the SL Colonies Essentials product range is designed to revolutionize in-game communication, item transfers, and more.

What is the Mailbox? The Mailbox serves as a versatile tool that can be placed anywhere on your land. It acts as a central hub for sending and receiving in-game mail, items, and coins, fostering interaction and cooperation among players.

Key Features:
In-Game Mail: Seamlessly exchange messages with your fellow community members through the Mailbox, enhancing communication and connectivity.
Item Transfers: Easily share resources, gifts, or purchased items with other players using the Mailbox's efficient item transfer system.
Coin Transfers: Facilitate hassle-free coin transactions between players, making your in-world dealings smoother than ever.
Cash on Delivery (COD) Feature: Request payment from recipients before they can access items sent to them, ideal for custom orders or transactions.

Customization: Personalize your Mailbox with any mesh model you desire to match the aesthetics of your land. This ensures the Mailbox is both functional and visually appealing, seamlessly blending with your space.

Tutorial Video: Want to learn more about the Mailbox and its fantastic features? Check out our tutorial video here: YouTube Tutorial Video
Don't miss out on this incredible addition to SL Colonies! Get your Mailbox today and enhance your in-game experience like never before.
Stay tuned for more exciting updates and new releases. See you in-world!