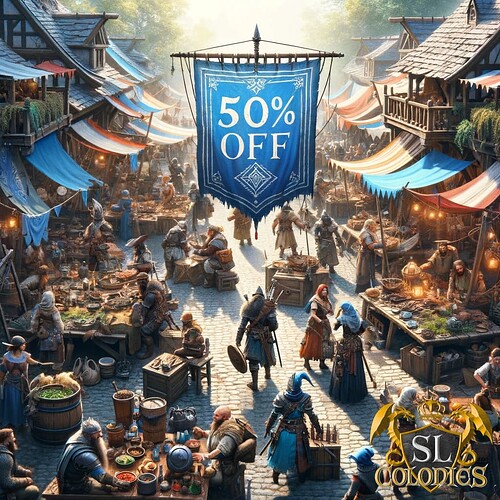 Dear SL Colonies Community,
Get ready to enhance your Second Life as we roll out our spectacular Black Friday to Cyber Monday sale! All items at SL Colonies will be available at an incredible 50% OFF from the start of Black Friday to the end of Cyber Monday.
No codes, no fuss – your discount will be automatically applied at checkout in our store and online marketplace. It's our way of saying thanks for your continued support and passion for the rich world of SL Colonies.
Share Your World: We love seeing your creativity! Share screenshots of your purchases, your crafted worlds, and the adventures you embark on using the hashtag #SLColonies. Let's light up social media with the amazing spaces you create and stories you tell.
Join the Conversation: Don't forget to join discussions on our forums and Discord for tips, tricks, and to connect with fellow SL Colonies enthusiasts. It's the perfect place to share your sale finds and get inspired by others' creations.
Happy Shopping and Creating! We can't wait to see what you'll build with your new items. Enjoy the savings and thank you for making SL Colonies a truly magical place.
Warm regards, The SL Colonies Team